.
We are already experiencing these solutions since long time for the Working Students and they resulted successful during the covid-19 lockdown. In addition, please note that, even in case the live lectures in physical classes will be activated in September, we will keep the Web Education Solutions operational to facilitate remote learning for working students and people in Countries that could still be under quarantine; in this case you will be free to choose between attending physically to classes and/or follow them remotely or a blended mix in case you will be in Italy.
The Admission to STRATEGOS is open to students with BSc (Bachelor's Science or more) compliant with Strategic Engineering topics and adequate personal preparation, please follow the
For Italian Applicants all kinds of Engineering BSc (qualsiasi tipo di Laurea Triennale in Ingegneria o superiore quale per esempio Laurea Quinquennale in Ingegneria) is enough to register to STRATEGOS (Laurea Magistrale dell'Universita' di Genova, MSc in Engineering Technology for Strategy and Security organized by Genoa University).
Foreign Applicants are required to have BSc on subjects related to STRATEGOS such as Engineering, Computer Science, Mathematics, Business Informatics etc. The Students should follow the Procedure proposed below that starts for Foreigners by registering as soon as possible on
; in case you have problems on Apply Unige you have to submit your CV (Curriculum Vitae) to
to receive a feedback by the Scientific Committee; please note that scientific and engineering backgrounds are really appreciated in STRATEGOS even if also other background could result suitable, so please send your specific CV.
From administrative point of view the admission subject to the possession of specific curricular requirements and degrees; indeed all the following curricular requirements are required for applicants:
For foreign graduates, verification of curricular requirements is carried out by Scientific Committee on
, considering appropriate equivalence between courses indicated in the personal curricula and the indications of the Italian regulations specified above.
The verification of the preparation is carried out by an Interview and Virtual Test including Curriculum Review as described in the following (Academic Regulations of the M.Sc.)
The Interview is carried out live, skype, or by phone, and it allows to finalize an assessment of Applicant's Potential on Strategic Engineering and addresses Curriculum Review, Engineering Background, Problem Solving & Modeling, Individual Potential, English Language Level, individual suitability for STRATEGOS.
As anticipated the validation of Credits and Interview Results are used as recognition of:
By the interview it is also verified, as anticipated, the adequate level of the English language knowledge, with reference to disciplinary vocabularies, equivalent to B.2 or higher.
It is finally recommended basic knowledge of modeling and programming approaches, that are checked during the Interview.
---

Application to STRATEGOS, MSc in Engineering Technologies for Strategy and Security (Laurea Magistrale, 2 Year Program)
---

Step 0
Apply UNIGE (Not Required if you are EU Citizen or have already a VISA)
You apply at Apply Unige, by creating your profile and loading your data, please be sure to provide a valid name (use always in same format), Email, SKYPE contact and Mobile Phone Please note that in Genoa University you can apply just for 2 MSc, so be sure to include from the beginning STRATEGOS in your list of 2 Applications.

Please use the Link: https://apply.unige.eu (2021)
After: move to complete the Virtual Test (Step 1) and start the registration in Universitaly (Step 2)

---

Step 1
Virtual Test
You complete the STRATEGOS Virtual Selection Test on the web, the Test is Dynamical and change constantly, you have limited time (10 minutes) and number of possibilities (3). Prepare yourself and solve it at the Link. You should use same Email of your Registration in Apply Unige, if you use multiple Email or change the name, we will track you and you will be rejected, so be professional.
Please use the Link: http://www.simulationteam.com/strategos/selection (2021)
After: Move and start the registration in Universitaly (Step 2) and Wait Message for Interview (Step 3)

---

Step 2
Register at Universitaly
You should register your profile in Universitaly, it could happen that the process cannot be finalized completely until you dont receive acceptance letter (step 4), be ready to finalize it as soon as possible.
Please use the Link: https://www.universitaly.it/ (2021)
After: Wait Message for Interview (Step 3)

---

Step 3
Selection
Please request on Skype the contact to our account strategos.interviews@simulationteam.com Don't do Skype Calls, but write there. In any case, we will contact you in your Skype address by strategos.interviews@simulationteam.com, if you will not provided an Account, we will solicit it by email and by mobile phone multiple times, but consider that your chances to be selected decrease. Considering we have many submissions, please keep ready to react properly and provide valid data. We will conduct a live or virtual interview with you and assess your potential for STRATEGOS, in both positive or negative case you will receive quickly an email of Acceptance or Rejection. It could take several weeks and even months to be contacted, but you will receive periodic email informing you are in the list, if you miss to get info for over 1 month please contact back us by email to strategos.interviews@simulationteam.com.
Please request on Skype the contact to our account strategos.interviews@simulationteam.com (2021)
After: Wait for be contacted and to get the Acceptance or Rejection result.

---

Step 4
Acceptance
You receive on your email the result of your application by ApplyUnige confirming that you are accepted or rejected, normally it takes few days after the interview. In cae of Acceptance email signed by Prof.Agostino Bruzzone, STRATEGOS Chair:
You have to proceed quickly to Universitaly and Finalize Registration if you dont' have it done it (Step 2)
You have to proceed immeditately to Unige Web Site and Register on it (Step 5); please note that this is different from Registering in Apply Unige
Students can apply for Aliseo Grant at https://www.aliseo.liguria.it/foreign-students/economic-benefits-service (Step 7)
Foreign Students with need for a VISA have to apply to their Embassy (Step 8)
After: Finalize Universitaly (Step 2), Register at UNIGE (Step 5), Apply for Aliseo (Step 7) and Request VISA (Step 8)

---

Step 5
Register at UNIGE
You have to create your Genoa University Account at UNIGE introducing your full data, please be sure to have introduced all your data, name, reference and address and be sure to use a same email used in Apply Unige. Please note that this Registration is different that one on Apply Unige (Step 2)
Please use the Link: https://servizionline.unige.it/studenti/Iscriversialluniversita/registrazione (2021)
After: Move to Pre-Enrollement (Step 6)

---

Step 6
Pre-Enrollment
You have to fill up the Pre-Enrollment form in Unige (link also provided during Step 3), be sure to select STRATEGOS, Engineering Technology for Strategy and Security
Please use the Link: https://servizionline.unige.it/web-studenti2/it/#/v2/preimma/td/5001/anac/2021 (2021)
After: Wait Approval Email from SASS (Step 9), sass@unige.it; normally it takes 2-3 weeks

---

Step 7
Apply for ALISEO
You can apply for ALISEO Grant to receive benefits and discounts. Please note that in case of success receiving ALISEO Grant, your payment results limited to just 16.00 Euro plus regional taxes (~200 Euro). Details on STRATEGOS Tuition Fees and related installments with and without ALISEO Grant are are available at https://www.studenti.unige.it/tasse/importi/ where you belong at 2 Classe (Scientific Degree) and to Gruppo 3 (MSC). The total of Tuition Fees changes based on your Status, but in case you don't get grants or benefits is around 2'000 Euro (details at previous link). Most of Foreign Students from Emerging Countries receive Alieso Grant
Please use the Link: https://www.aliseo.liguria.it/foreign-students/economic-benefits-service/ (2021)
After: Wait to received the result of your Grant Application

---

Step 8
Apply for VISA (Not Required if you are EU Citizen or have already a VISA)
As soon as you receive the Acceptance Letter/Email by the Coordinator (Step 4), you have to start the activation of the procedure for VISA and Pre-Enrollment; please be sure to have ready in your application to Italian Embassy:
Copy of Acceptance Letter/Email by STRATEGOS Council Chair
Copy of your Passport
Your Data (Name, Born Place and Date, Citizenship, Address & Country, Educational Background
An Accomodation Solution to cover your stay (please note thatsome Embassy requires just few weeks, while other ones 1 year) check with SASS for obtaining some solution or on Unige Accomodation Finding Please check at this Link
Demonstration of your economic capability to live in Italy based on your family or your own money (from you or your parents, around 5'400.00Euro / 6'180.00USD), eventually check with SASS for opportunities
Please use the Link: https://www.aliseo.liguria.it/foreign-students/economic-benefits-service/ (2021)
After: Wait to received the VISA, but complete the Pre-Enrollment (Step 6) for following Virtually Lectures

---

Step 9
Approval
The STRATEGOS Council will check your Pre-Enrollment and match with Selection Database, if you passed it, it will be approved soon, and within 3 weeks you will receive the link for Final Registration. Wait to get Approval with the Link to Final Registration, but be ready to follow Class Virtually if there are delays or problems; in any case we will guarantee Classes and Exams always also by Web Access for people due to Access Problems (e.g. VISA Delays, Working Students, Sickness, Contingencies, Crisis, Quarantines, Pandemics, etc.).
It is possible that you are required to finalize some documents not yet properly provided such as:
Copy of Acceptance Letter/Email by Genoa University
Bachelor Degree (original or certified photocopy), authenticated by the competent Italian Diplomatic or Consular Authority. Alternatively, the degree can be legalized by the Italy-based Diplomatic or Consular Authority of the Country which issued the document or, in case of Countries signatories of the Hague Convention, by the competent Authority (https://www.hcch.net/fr/instruments/conventions/authorities1/?cid=41)
Official Translation in Italian (provided by the competent Diplomatic or Consular Authority, or by an official translator and confirmed by the Authority itself, or validated by an Italian Court)
"Dichiarazione di Valore" (in original) provided by the competent Italian Diplomatic or Consular Authority. Instead of Dichiarazione di valore, it can be submitted a document issued by one of the ENIC-NARIC centres (http://cis.cimea.it/estero) or any other document issued by the Diplomatic or Consular Authority of the foreign country in Italy. Take a look to this Link
Certificate (original) detailing all the subjects and exams taken to obtain the degree, authenticated by the competent Diplomatic or Consular Authority
Official Translation in Italian (not required if the certificate is provided in English, French, Spanish or Portuguese)
Syllabus (on headed paper of the foreign University and confirmed with the original stamp of the University) of each exam included in the foreign curriculum
Official Translation in Italian (not required if the syllabus is provided in English, French, Spanish or Portuguese)
Scanned Copy of your Passport
Your Data (Name, Born Place and Date, Citizenship, Address & Country, Educational Background)
An Accomodation Solution to cover your stay (please note thatsome Embassy requires just few weeks, while other ones 1 year) check with SASS for obtaining some solution or on Unige Accomodation Finding
Demonstration of your Economic capability to live in Italy based on your family or your own money, eventually check with SASS for opportunities


Wait Approval Email
After: Complete Final Registration (Step 10)

---

Step 10
Registration
You complete the Registration on the Link received by email from SASS and proceed to payment If you dont received such link please write to sass@unige.it and request it.
Please use the Link received by email from SASS and the following Link for Payment: https://servizionline.unige.it/studenti/unigepay20 (2021)
After: Be ready to follow Lectures Live and/or Virtually; in any case we will guarantee Classes and Exams always also by Web Access for people due to Access Problems
---
Please check your status by Click Here
<!/h2>

<! fine ---------------------------------------------> <!sintesien=============================================>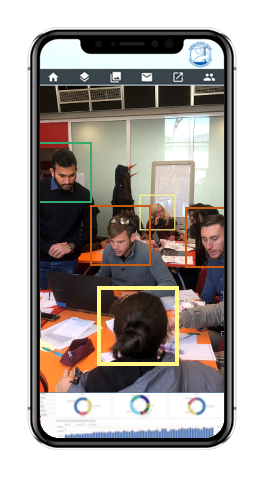 STRATEGOS: Synthesis


STRATEGOS is the First Master's Degree in Strategic Engineering in Italy and among the first ones in the World.
STRATEGOS is two years long and the final Internship, with Thesis, in Industry, covers the entire last Semester and related Credits.
STRATEGOS Industrial Partners are Companies of the caliber of Accenture, Ansaldo, Axpo, Hitachi, Leonardo, Thales, Tenova, etc. Alongside them there are many Small and Medium-sized Enterprises, as well as International Organizations and Agencies (e.g. NATO Centers of Excellence), all interested in Strategic Engineering and eager to welcome our Graduating Students for Internships.
STRATEGOS prepares to develop solutions to support Strategic Decisions thanks to the combined use of Modeling & Simulation, Data Analytics, Artificial Intelligence & Machine Learning, all integrated with enabling factors (e.g. IoT, IoE, Social Media, Human Behavior Model).
STRATEGOS deals with complex problems and so it has a strongly trans-disciplinary approach, where the engineering core is supported also by 4 Exams in Economics and 2 in International Affairs devoted specifically to characterize the Risks of Countries, Region and Market Areas.
STRATEGOS is an International Degree, entirely in English, which includes numerous Seminars and Workshops open also to Companies and aimed at addressing complex issues through extensive use of Virtual Labs, Computer Simulation, Role Play Games, Serious Games, eXtended Reality (Virtual, Augmented & Mixed Reality).

Click

here

for a more detailed description

If you have already a Master of Science please consider also our new International PhD Program in

Strategic Engineering

Additional information is available on

www.unige.it

,

www.itim.unige.it/strategos

and by email (

info.strategos@diten.unige.it

)
<! fine ---------------------------------------------> <!sintesiit=============================================>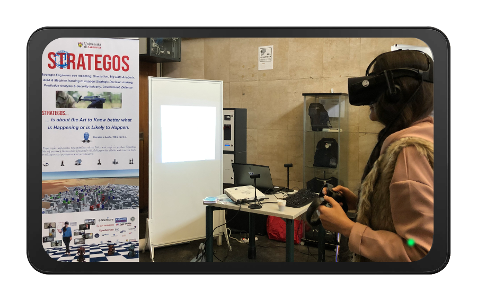 STRATEGOS: la Sintesi


STRATEGOS è la Prima Laurea Magistrale in Strategic Engineering in Italia e tra le prime nel Mondo.
STRATEGOS dura due anni e l'Internship, con Tesi in Azienda, copre l'intero ultimo semestre e relativi crediti.
I Partner Industriali di STRATEGOS sono Aziende del calibro di Accenture, Ansaldo, Axpo, Hitachi, Leonardo, Thales, Tenova, etc. Al loro fianco vi sono molte piccole e medie imprese, oltre ad Enti e Agenzie Internazionali (Centri di Eccellenza della NATO), tutti interessati allo Strategic Engineering e desiderosi di accogliere i nostri laureandi in Internship.
STRATEGOS prepara a sviluppare soluzioni per supportare Decisioni Strategiche grazie all'uso combinato dei suoi tre Pilastri: Modeling & Simulation, Data Analytics, Artificial Intelligence & Machine Learning, integrati con fattori abilitanti (e.g. IoT, IoE, Social Media, Human Behavior Model).
STRATEGOS affronta soprattutto tematiche complesse e quindi ha un'impostazione fortemente transdisciplinare, dove il cuore Ingegneristico è affiancato da 4 esami di Economia e 2 di International Affairs per caratterizzare i rischi paese, regione e area di mercato.
STRATEGOS è una Laurea Internazionale, integralmente in lingua Inglese, che include numerosi Seminari e Workshop aperti anche alle Aziende e mirati ad affrontare temi complessi tramite attività di Virtual Labs, Computer Simulation, Role Play Games, Serious Games, eXtended Reality (Virtual, Augmented & Mixed Reality).

Fai Click

qui

per una descrizione più dettagliata.

Se avete gia' una Laurea Magistrale considerate anche il nostro nuovo Dottorato Internazionale in

Strategic Engineering

Informazioni aggiuntive sono disponibili su

www.unige.it

,

www.itim.unige.it/strategos

e per email a

info.strategos@diten.unige.it
<! fine ---------------------------------------------> <!contacts=============================================>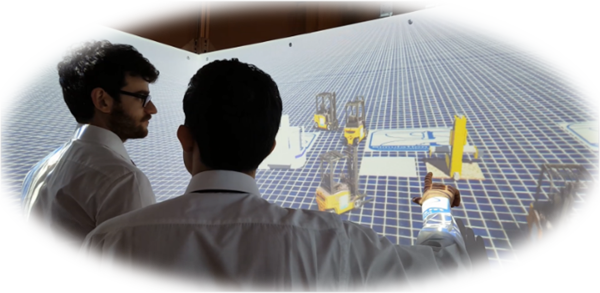 STRATEGOS Contacts


<! fine --------------------------------------------->
<!script src="./js/menustick.js"><!/script>