Strict Standards
: Non-static method JLoader::load() should not be called statically in
/web/htdocs/www.simulationteam.com/home/libraries/loader.php
on line
161
Strict Standards
: Non-static method JLoader::register() should not be called statically in
/web/htdocs/www.simulationteam.com/home/libraries/loader.php
on line
138
Strict Standards
: Non-static method JLoader::import() should not be called statically in
/web/htdocs/www.simulationteam.com/home/libraries/loader.php
on line
186
Strict Standards
: Non-static method JLoader::import() should not be called statically in
/web/htdocs/www.simulationteam.com/home/libraries/loader.php
on line
186
Strict Standards
: Non-static method JLoader::import() should not be called statically in
/web/htdocs/www.simulationteam.com/home/libraries/loader.php
on line
186
Strict Standards
: Non-static method JLoader::register() should not be called statically in
/web/htdocs/www.simulationteam.com/home/libraries/loader.php
on line
71
Strict Standards
: Non-static method JLoader::load() should not be called statically in
/web/htdocs/www.simulationteam.com/home/libraries/loader.php
on line
161
Strict Standards
: Non-static method JLoader::register() should not be called statically in
/web/htdocs/www.simulationteam.com/home/libraries/loader.php
on line
138
Strict Standards
: Declaration of ContentController::display() should be compatible with JController::display($cachable = false) in
/web/htdocs/www.simulationteam.com/home/components/com_content/controller.php
on line
28
Strict Standards
: Non-static method JLoader::import() should not be called statically in
/web/htdocs/www.simulationteam.com/home/libraries/loader.php
on line
186
Strict Standards
: Non-static method JLoader::import() should not be called statically in
/web/htdocs/www.simulationteam.com/home/libraries/loader.php
on line
186
Strict Standards
: Non-static method JLoader::import() should not be called statically in
/web/htdocs/www.simulationteam.com/home/libraries/loader.php
on line
186
Strict Standards
: Non-static method JLoader::register() should not be called statically in
/web/htdocs/www.simulationteam.com/home/libraries/loader.php
on line
71
Strict Standards
: Non-static method JLoader::load() should not be called statically in
/web/htdocs/www.simulationteam.com/home/libraries/loader.php
on line
161
Strict Standards
: Non-static method JLoader::register() should not be called statically in
/web/htdocs/www.simulationteam.com/home/libraries/loader.php
on line
138
Strict Standards
: Non-static method JLoader::import() should not be called statically in
/web/htdocs/www.simulationteam.com/home/libraries/loader.php
on line
186
Strict Standards
: Non-static method JLoader::load() should not be called statically in
/web/htdocs/www.simulationteam.com/home/libraries/loader.php
on line
161
Strict Standards
: Non-static method JLoader::register() should not be called statically in
/web/htdocs/www.simulationteam.com/home/libraries/loader.php
on line
138
Strict Standards
: Non-static method JLoader::load() should not be called statically in
/web/htdocs/www.simulationteam.com/home/libraries/loader.php
on line
161
Strict Standards
: Non-static method JLoader::register() should not be called statically in
/web/htdocs/www.simulationteam.com/home/libraries/loader.php
on line
138
Strict Standards
: Non-static method JLoader::import() should not be called statically in
/web/htdocs/www.simulationteam.com/home/libraries/loader.php
on line
186
Strict Standards
: call_user_func_array() expects parameter 1 to be a valid callback, non-static method JHTMLBehavior::caption() should not be called statically in
/web/htdocs/www.simulationteam.com/home/libraries/joomla/html/html.php
on line
87
Strict Standards
: Non-static method JHTML::script() should not be called statically in
/web/htdocs/www.simulationteam.com/home/libraries/joomla/html/html/behavior.php
on line
63
Strict Standards
: Non-static method JHTML::_() should not be called statically in
/web/htdocs/www.simulationteam.com/home/libraries/joomla/html/html.php
on line
168
Strict Standards
: call_user_func_array() expects parameter 1 to be a valid callback, non-static method JHTMLBehavior::mootools() should not be called statically in
/web/htdocs/www.simulationteam.com/home/libraries/joomla/html/html.php
on line
87
Strict Standards
: Non-static method JFactory::getConfig() should not be called statically in
/web/htdocs/www.simulationteam.com/home/libraries/joomla/html/html/behavior.php
on line
46
Strict Standards
: Non-static method JHTML::script() should not be called statically in
/web/htdocs/www.simulationteam.com/home/libraries/joomla/html/html/behavior.php
on line
56
Strict Standards
: Non-static method JURI::root() should not be called statically in
/web/htdocs/www.simulationteam.com/home/libraries/joomla/html/html.php
on line
172
Strict Standards
: Non-static method JFactory::getDocument() should not be called statically in
/web/htdocs/www.simulationteam.com/home/libraries/joomla/html/html.php
on line
175
Strict Standards
: Non-static method JURI::root() should not be called statically in
/web/htdocs/www.simulationteam.com/home/libraries/joomla/html/html.php
on line
172
Strict Standards
: Non-static method JFactory::getDocument() should not be called statically in
/web/htdocs/www.simulationteam.com/home/libraries/joomla/html/html.php
on line
175
Strict Standards
: Non-static method JLoader::import() should not be called statically in
/web/htdocs/www.simulationteam.com/home/libraries/loader.php
on line
186
Strict Standards
: Non-static method JLoader::load() should not be called statically in
/web/htdocs/www.simulationteam.com/home/libraries/loader.php
on line
161
Strict Standards
: Non-static method JLoader::register() should not be called statically in
/web/htdocs/www.simulationteam.com/home/libraries/loader.php
on line
138
Strict Standards
: Non-static method JLoader::import() should not be called statically in
/web/htdocs/www.simulationteam.com/home/libraries/loader.php
on line
186
Strict Standards
: Non-static method JLoader::import() should not be called statically in
/web/htdocs/www.simulationteam.com/home/libraries/loader.php
on line
186
Strict Standards
: Non-static method JLoader::register() should not be called statically in
/web/htdocs/www.simulationteam.com/home/libraries/loader.php
on line
71
Strict Standards
: Non-static method JLoader::load() should not be called statically in
/web/htdocs/www.simulationteam.com/home/libraries/loader.php
on line
161
Strict Standards
: Non-static method JLoader::register() should not be called statically in
/web/htdocs/www.simulationteam.com/home/libraries/loader.php
on line
138
Strict Standards
: Non-static method JLoader::load() should not be called statically in
/web/htdocs/www.simulationteam.com/home/libraries/loader.php
on line
161
Strict Standards
: Non-static method JLoader::register() should not be called statically in
/web/htdocs/www.simulationteam.com/home/libraries/loader.php
on line
138
Strict Standards
: Non-static method JLoader::import() should not be called statically in
/web/htdocs/www.simulationteam.com/home/libraries/loader.php
on line
186
Strict Standards
: Non-static method JLoader::import() should not be called statically in
/web/htdocs/www.simulationteam.com/home/libraries/loader.php
on line
186
Strict Standards
: Non-static method JLoader::import() should not be called statically in
/web/htdocs/www.simulationteam.com/home/libraries/loader.php
on line
186
Strict Standards
: Non-static method JLoader::import() should not be called statically in
/web/htdocs/www.simulationteam.com/home/libraries/loader.php
on line
186
Strict Standards
: Non-static method JLoader::import() should not be called statically in
/web/htdocs/www.simulationteam.com/home/libraries/loader.php
on line
186
Strict Standards
: Non-static method JLoader::load() should not be called statically in
/web/htdocs/www.simulationteam.com/home/libraries/loader.php
on line
161
Strict Standards
: Non-static method JLoader::register() should not be called statically in
/web/htdocs/www.simulationteam.com/home/libraries/loader.php
on line
138
Strict Standards
: Declaration of JCacheView::get() should be compatible with JCache::get($id, $group = NULL) in
/web/htdocs/www.simulationteam.com/home/libraries/joomla/cache/handler/view.php
on line
150
Strict Standards
: Non-static method JLoader::import() should not be called statically in
/web/htdocs/www.simulationteam.com/home/libraries/loader.php
on line
186
Strict Standards
: Non-static method JLoader::import() should not be called statically in
/web/htdocs/www.simulationteam.com/home/libraries/loader.php
on line
186
Strict Standards
: Non-static method JLoader::import() should not be called statically in
/web/htdocs/www.simulationteam.com/home/libraries/loader.php
on line
186
Strict Standards
: Non-static method JLoader::register() should not be called statically in
/web/htdocs/www.simulationteam.com/home/libraries/loader.php
on line
71
Strict Standards
: Non-static method JLoader::load() should not be called statically in
/web/htdocs/www.simulationteam.com/home/libraries/loader.php
on line
161
Strict Standards
: Non-static method JLoader::register() should not be called statically in
/web/htdocs/www.simulationteam.com/home/libraries/loader.php
on line
138
Strict Standards
: Non-static method JLoader::import() should not be called statically in
/web/htdocs/www.simulationteam.com/home/libraries/loader.php
on line
186
Strict Standards
: Non-static method JLoader::import() should not be called statically in
/web/htdocs/www.simulationteam.com/home/libraries/loader.php
on line
186
Strict Standards
: Non-static method JLoader::import() should not be called statically in
/web/htdocs/www.simulationteam.com/home/libraries/loader.php
on line
186
Strict Standards
: Non-static method JLoader::import() should not be called statically in
/web/htdocs/www.simulationteam.com/home/libraries/loader.php
on line
186
Strict Standards
: Non-static method JLoader::register() should not be called statically in
/web/htdocs/www.simulationteam.com/home/libraries/loader.php
on line
71
Strict Standards
: Non-static method JLoader::load() should not be called statically in
/web/htdocs/www.simulationteam.com/home/libraries/loader.php
on line
161
Strict Standards
: Non-static method JLoader::register() should not be called statically in
/web/htdocs/www.simulationteam.com/home/libraries/loader.php
on line
138
Strict Standards
: Non-static method JLoader::import() should not be called statically in
/web/htdocs/www.simulationteam.com/home/libraries/loader.php
on line
186
Strict Standards
: Non-static method JLoader::load() should not be called statically in
/web/htdocs/www.simulationteam.com/home/libraries/loader.php
on line
161
Strict Standards
: Non-static method JLoader::register() should not be called statically in
/web/htdocs/www.simulationteam.com/home/libraries/loader.php
on line
138
Strict Standards
: Non-static method JLoader::import() should not be called statically in
/web/htdocs/www.simulationteam.com/home/libraries/loader.php
on line
186
Strict Standards
: Non-static method JLoader::import() should not be called statically in
/web/htdocs/www.simulationteam.com/home/libraries/loader.php
on line
186
Strict Standards
: Non-static method JLoader::import() should not be called statically in
/web/htdocs/www.simulationteam.com/home/libraries/loader.php
on line
186
Strict Standards
: Non-static method JLoader::import() should not be called statically in
/web/htdocs/www.simulationteam.com/home/libraries/loader.php
on line
186
Strict Standards
: Non-static method JLoader::import() should not be called statically in
/web/htdocs/www.simulationteam.com/home/libraries/loader.php
on line
186
Strict Standards
: Non-static method JSite::getMenu() should not be called statically in
/web/htdocs/www.simulationteam.com/home/components/com_content/router.php
on line
19
Strict Standards
: Non-static method JApplication::getMenu() should not be called statically in
/web/htdocs/www.simulationteam.com/home/includes/application.php
on line
345
Strict Standards
: Non-static method JLoader::import() should not be called statically in
/web/htdocs/www.simulationteam.com/home/libraries/loader.php
on line
186
Strict Standards
: Non-static method JMenu::getInstance() should not be called statically in
/web/htdocs/www.simulationteam.com/home/libraries/joomla/application/application.php
on line
712
Strict Standards
: Non-static method JError::isError() should not be called statically in
/web/htdocs/www.simulationteam.com/home/libraries/joomla/application/application.php
on line
713
Strict Standards
: Non-static method JLoader::import() should not be called statically in
/web/htdocs/www.simulationteam.com/home/libraries/loader.php
on line
186
Strict Standards
: Non-static method JLoader::load() should not be called statically in
/web/htdocs/www.simulationteam.com/home/libraries/loader.php
on line
161
Strict Standards
: Non-static method JLoader::register() should not be called statically in
/web/htdocs/www.simulationteam.com/home/libraries/loader.php
on line
138
Strict Standards
: Non-static method JLoader::import() should not be called statically in
/web/htdocs/www.simulationteam.com/home/libraries/loader.php
on line
186
Strict Standards
: Non-static method JLoader::load() should not be called statically in
/web/htdocs/www.simulationteam.com/home/libraries/loader.php
on line
161
Strict Standards
: Non-static method JLoader::register() should not be called statically in
/web/htdocs/www.simulationteam.com/home/libraries/loader.php
on line
138
Strict Standards
: Non-static method JLoader::import() should not be called statically in
/web/htdocs/www.simulationteam.com/home/libraries/loader.php
on line
186
Strict Standards
: Non-static method JLoader::load() should not be called statically in
/web/htdocs/www.simulationteam.com/home/libraries/loader.php
on line
161
Strict Standards
: Non-static method JLoader::register() should not be called statically in
/web/htdocs/www.simulationteam.com/home/libraries/loader.php
on line
138
Strict Standards
: Non-static method JLoader::import() should not be called statically in
/web/htdocs/www.simulationteam.com/home/libraries/loader.php
on line
186
Strict Standards
: Non-static method JLoader::load() should not be called statically in
/web/htdocs/www.simulationteam.com/home/libraries/loader.php
on line
161
Strict Standards
: Non-static method JLoader::register() should not be called statically in
/web/htdocs/www.simulationteam.com/home/libraries/loader.php
on line
138
Strict Standards
: Non-static method JLoader::import() should not be called statically in
/web/htdocs/www.simulationteam.com/home/libraries/loader.php
on line
186
Strict Standards
: Non-static method JLoader::load() should not be called statically in
/web/htdocs/www.simulationteam.com/home/libraries/loader.php
on line
161
Strict Standards
: Non-static method JLoader::register() should not be called statically in
/web/htdocs/www.simulationteam.com/home/libraries/loader.php
on line
138
Strict Standards
: Non-static method JLoader::import() should not be called statically in
/web/htdocs/www.simulationteam.com/home/libraries/loader.php
on line
186
Strict Standards
: Non-static method JLoader::load() should not be called statically in
/web/htdocs/www.simulationteam.com/home/libraries/loader.php
on line
161
Strict Standards
: Non-static method JLoader::register() should not be called statically in
/web/htdocs/www.simulationteam.com/home/libraries/loader.php
on line
138
Strict Standards
: Non-static method JLoader::load() should not be called statically in
/web/htdocs/www.simulationteam.com/home/libraries/loader.php
on line
161
Strict Standards
: Non-static method JLoader::register() should not be called statically in
/web/htdocs/www.simulationteam.com/home/libraries/loader.php
on line
138
Strict Standards
: Non-static method JString::strpos() should not be called statically in
/web/htdocs/www.simulationteam.com/home/plugins/content/emailcloak.php
on line
67
Strict Standards
: Non-static method JString::strpos() should not be called statically in
/web/htdocs/www.simulationteam.com/home/plugins/content/emailcloak.php
on line
73
Strict Standards
: Non-static method JFactory::getDBO() should not be called statically in
/web/htdocs/www.simulationteam.com/home/plugins/content/loadmodule.php
on line
24
Strict Standards
: Non-static method JString::strpos() should not be called statically in
/web/htdocs/www.simulationteam.com/home/plugins/content/loadmodule.php
on line
26
Strict Standards
: Non-static method JPluginHelper::getPlugin() should not be called statically in
/web/htdocs/www.simulationteam.com/home/plugins/content/pagebreak.php
on line
39
Strict Standards
: Non-static method JPluginHelper::_load() should not be called statically in
/web/htdocs/www.simulationteam.com/home/libraries/joomla/plugin/helper.php
on line
41
Strict Standards
: Non-static method JRequest::getBool() should not be called statically in
/web/htdocs/www.simulationteam.com/home/plugins/content/pagebreak.php
on line
42
Strict Standards
: Non-static method JRequest::getVar() should not be called statically in
/web/htdocs/www.simulationteam.com/home/libraries/joomla/environment/request.php
on line
217
Strict Standards
: Non-static method JRequest::_cleanVar() should not be called statically in
/web/htdocs/www.simulationteam.com/home/libraries/joomla/environment/request.php
on line
151
Strict Standards
: Non-static method JFilterInput::getInstance() should not be called statically in
/web/htdocs/www.simulationteam.com/home/libraries/joomla/environment/request.php
on line
577
Strict Standards
: Non-static method JRequest::getBool() should not be called statically in
/web/htdocs/www.simulationteam.com/home/plugins/content/pagebreak.php
on line
43
Strict Standards
: Non-static method JRequest::getVar() should not be called statically in
/web/htdocs/www.simulationteam.com/home/libraries/joomla/environment/request.php
on line
217
Strict Standards
: Non-static method JRequest::_cleanVar() should not be called statically in
/web/htdocs/www.simulationteam.com/home/libraries/joomla/environment/request.php
on line
151
Strict Standards
: Non-static method JFilterInput::getInstance() should not be called statically in
/web/htdocs/www.simulationteam.com/home/libraries/joomla/environment/request.php
on line
577
Strict Standards
: Non-static method JPlugin::loadLanguage() should not be called statically in
/web/htdocs/www.simulationteam.com/home/plugins/content/pagebreak.php
on line
45
Strict Standards
: Non-static method JFactory::getLanguage() should not be called statically in
/web/htdocs/www.simulationteam.com/home/libraries/joomla/plugin/plugin.php
on line
113
Strict Standards
: Non-static method JLoader::import() should not be called statically in
/web/htdocs/www.simulationteam.com/home/libraries/loader.php
on line
186
Strict Standards
: Non-static method JRequest::getCmd() should not be called statically in
/web/htdocs/www.simulationteam.com/home/plugins/content/pagenavigation.php
on line
21
Strict Standards
: Non-static method JRequest::getVar() should not be called statically in
/web/htdocs/www.simulationteam.com/home/libraries/joomla/environment/request.php
on line
255
Strict Standards
: Non-static method JRequest::_cleanVar() should not be called statically in
/web/htdocs/www.simulationteam.com/home/libraries/joomla/environment/request.php
on line
134
Strict Standards
: Non-static method JFilterInput::getInstance() should not be called statically in
/web/htdocs/www.simulationteam.com/home/libraries/joomla/environment/request.php
on line
577
Strict Standards
: Non-static method JPluginHelper::getPlugin() should not be called statically in
/web/htdocs/www.simulationteam.com/home/plugins/content/pagenavigation.php
on line
24
Strict Standards
: Non-static method JPluginHelper::_load() should not be called statically in
/web/htdocs/www.simulationteam.com/home/libraries/joomla/plugin/helper.php
on line
41
Strict Standards
: Non-static method JFactory::getURI() should not be called statically in
/web/htdocs/www.simulationteam.com/home/plugins/content/vote.php
on line
21
Strict Standards
: Non-static method JLoader::import() should not be called statically in
/web/htdocs/www.simulationteam.com/home/libraries/loader.php
on line
186
Strict Standards
: Non-static method JURI::getInstance() should not be called statically in
/web/htdocs/www.simulationteam.com/home/libraries/joomla/factory.php
on line
402
Strict Standards
: Non-static method JLoader::import() should not be called statically in
/web/htdocs/www.simulationteam.com/home/libraries/loader.php
on line
186
Salvatore Capasso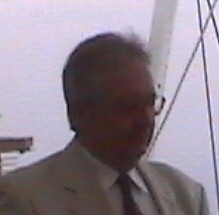 He is Responsible of Log.In.Form after having established the Consortium for Training in Integrated Logistics (
Consorzio Formazione Logistica Integrata
) where he was Director for over 10 years.
He had experiences working in Information Technology as analyst in Data Base design, working in 
General Electric
(GEIS) and 
Honeywell
. 
He worked as "Lecturer Guide" for affiliates at multinational level in a multilingual environment group involving English, French, Italian and North American educators. He attended to management education programs receiving in 1973 the MGT ONE (Formal first level of education for managers) and in 1975 MGT TWO (the second level managers) participating to special courses in Quality (Orlando, Minneapolis) and 3rd Level Director Program in London.
In 1976 he taken the responsibility for the project "DATA COMMUNICATION training" at Italian national level. In the 1982 he was appointed as Responsible for all the national internal education programms in 
Bull
information systems (employee division) and organisational reviewer for the following roles: sales and system support, design engineers, maintenance engineers and manufacturing specialists. In 1988 he was appointed has Director for SW development in the transportation segment in a company participated by Bull. For this role the problem areas considered were: freight forwarders, custom declaratory, national and international couriers, express couriers, road transports.

In 1989 the previous responsibility was enlarged in the same market segment to an internal marketing Bull Department for projects development in the various areas of the intermodal transportation. Following the previous experiences he was appointed Chief Administrator of a participated Bull company operating in North Italy for EDI services in the transport operators market. Since 1992 he is a FIAT Director working in VTE (Voltri Terminal Europe) as Responsible for Information Technology and organisation development for the company, at that time just started; today the VTE results are 50 million USD revenues and 540 people and VTE is a reference point for the transport industry in Italy. In 1998 he has been appointed as Director General Manager of the Education Consortium CFLI mainly for the development of knowledge on the outside transport market of the logistics know-how. 
He is responsible of SITRANET project.
Currently he is responsible of Innovative Solution R&D in Ports and Logistics for several projects carried out by major Italian Ports and Innovation Companies (i.e. Log.inform)
Strict Standards
: Non-static method JLoader::import() should not be called statically in
/web/htdocs/www.simulationteam.com/home/libraries/loader.php
on line
186